Dr. Chris Grams & her therapy dog, Libby
Welcome! 
Thank you for visiting the website for Dr. Chris Grams, D.C. Here you will find useful, informative resources for your ongoing health care. From the moment you first walk through the door, your comfort and care is our highest priority.

Our logo is based on the ancient symbol of the lotus flower. It grows in muddy water and rises above the surface to bloom with remarkable beauty. At night, the flower closes and sinks underwater, and at dawn it rises and opens again. Untouched by the impurities surrounding it, the lotus symbolizes the purity of heart and mind. It also represents long life, good health, honor and good fortune.
Dr. Grams is available Monday through Friday and some Saturday mornings. Some same day appointments are available. Massages with Helen Foley are available Monday through Saturday by appointment only.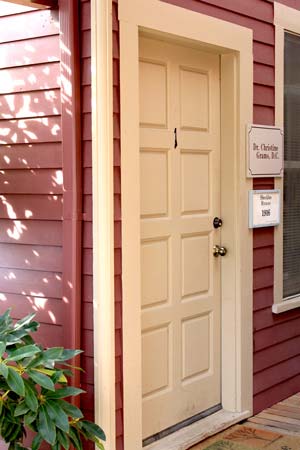 Our Office hours are:
Mon: 9am-5:30pm
 Tues: 9am-5:30pm
 Wed: Closed

 Thurs: 9am-5:30pm
 Fri: 9am-6pm
 Sat: 9am-12pm

Call 206-842-6714 to
schedule an appointment today.
149 Finch Place SW, Suite 1
Bainbridge Island, WA 98110